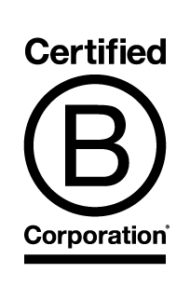 GreenCollar is proud to announce it has recently become a Certified B Corporation®. This certification recognises and verifies GreenCollar's commitment to social and environmental responsibility.
As a Certified B Corp, GreenCollar has joined a global community of over 2,000 corporations who meet the highest standards of social and environmental performance, public transparency, and legal accountability.
Unlike traditional corporations, Certified B Corps are legally required to consider the impact of their decisions not only on their shareholders, but also on their stakeholders. Certified B Corporations are leading a global movement of people using business as a force for good.
For GreenCollar, this certification demonstrates that the company has met, and will continue to meet, the performance standards of B Corps™. These standards measure GreenCollar's impact on workers, clients, communities and the environment.
GreenCollar's performance is formally measured by the B Impact Assessment, created and certified by nonprofit organisation B Lab. Adoption of the B Corporation Legal Framework ensures GreenCollar's accountability and transparency.